Summary: (from Macmillian Publishers)
"America's national parks are breathing spaces in a world in which such spaces are steadily disappearing, which is why more than 300 million people visit the parks each year. Now Terry Tempest Williams, the author of the environmental classic Refuge and the beloved memoir WhenWomen Were Birds, returns with The Hour of Land, a literary celebration of our national parks, an exploration of what they mean to us and what we mean to them.
From the Grand Tetons in Wyoming to Acadia in Maine to Big Bend in Texas and more, Williams creates a series of lyrical portraits that illuminate the unique grandeur of each place while delving into what it means to shape a landscape with its own evolutionary history into something of our own making. Part memoir, part natural history, and part social critique, The Hour of Land is a meditation and a manifesto on why wild lands matter to the soul of America."
Quotes:
"
Our national parks are our breathing spaces."
"Our public lands - whether a national park or monument, wildlife refuge, forest or prairie - make each one of us land-rich. It is our inheritance as citizens of a country called America."
"This is what we can promise the future: a legacy of care. That we will be good stewards and not take too much or give back too little, that we will recognize wild nature for what it is, in all its magnificent and complex history - an unfathomable wealth that should be consciously saved, not ruthlessly spent."
Reviews:
Interviews:
2. Experience Life Mag - Behind the Scenes with the author:
Discussion Questions: (Heidi wrote these and will lead the discussion)
1.
To describe Wind Canyon's terrain in Theodore Roosevelt National Park, she uses the verbs, "break, erode, collapse, slide . . ."
(p. 80) Which verbs would you use to describe Bucks County?
2.
Our author writes, "Again and again, we find the common story of the establishment of our national parks: a handful of people fall in love with a place, see it threatened, want to protect it for the future and have the passion and patience to attract the necessary fund and political clout to make it happen." (p. 105) If you had the ability, time and money to protect and save a parcel of land, where would you choose, how small or large and why?
3.
Which national parks have you visited and what are some of your memories, from your visit, which make you 'swoon' as Maine does for our author?
4.
After reading this book, are there any parks that you want to visit more than ever now?
5.
Do you have 'place'?
A land or space that you feel tied to?
6.
There are numerous wonderful passages, poems and quotes in this book. One of my favorite is from Laurance Rockefeller: " How we treat our land, how we build upon it, how we act toward our air and water, in the long run, will tell what kind of people we really are." (p 28) What are some of your favorite quotes and why?
7.
What do you think of Roosevelt's vision of "democracy of experience" having created the carriage roads in Arcadia? (p. 92)
8.
Williams' writing style is beautiful, descriptive, visual, and poetic. She includes letters to friends, sections from her notebooks, and shares struggles with her family. How do you react to her style and does it enhance the stories she's telling?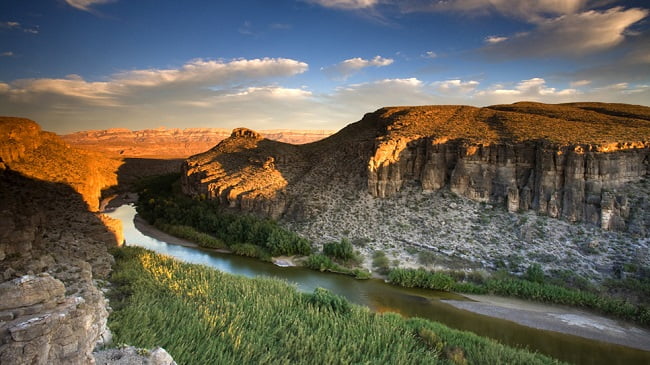 Big Bend National Park
(https://www.national-park.com)