Summary from Amazon:
"
Alexander von Humboldt (1769–1859) was an intrepid explorer and the most famous scientist of his age. In North America, his name still graces four counties, thirteen towns, a river, parks, bays, lakes, and mountains. His restless life was packed with adventure and discovery, whether he was climbing the highest volcanoes in the world or racing through anthrax-infected Siberia or translating his research into bestselling publications that changed science and thinking. Among Humboldt's most revolutionary ideas was a radical vision of nature, that it is a complex and interconnected global force that does not exist for the use of humankind alone.
Now Andrea Wulf brings the man and his achievements back into focus: his daring expeditions and investigation of wild environments around the world and his discoveries of similarities between climate and vegetation zones on different continents. She also discusses his prediction of human-induced climate change, his remarkable ability to fashion poetic narrative out of scientific observation, and his relationships with iconic figures such as Simón Bolívar and Thomas Jefferson. Wulf examines how Humboldt's writings inspired other naturalists and poets such as Darwin, Wordsworth, and Goethe, and she makes the compelling case that it was Humboldt's influence that led John Muir to his ideas of natural preservation and that shaped Thoreau's
Walden
.
With this brilliantly researched and compellingly written book, Andrea Wulf shows the myriad fundamental ways in which Humboldt created our understanding of the natural world, and she champions a renewed interest in this vital and lost player in environmental history and science."
Reviews:
NY Times Review:
https://www.nytimes.com/2015/09/27/books/review/the-invention-of-nature-by-andrea-wulf.html
Boston Globe:
https://www.bostonglobe.com/arts/books/2015/10/03/book-review-the-invention-nature-alexander-von-humboldt-new-world-andrea-wulf/13dl6jtIkrrkkahAWtjvkI/story.html
Interviews:
On Vimeo:
https://vimeo.com/93417125
Interview with ZDF, in German:
https://www.zdf.de/gesellschaft/precht/precht-168.html
At Yale:
http://e360.yale.edu/features/legacy_of_the_man_who_change_our_view_of_nature_alexander_von_humboldt_andrea_wulf
RadioWest Interview:
http://radiowest.kuer.org/post/invention-nature-0
Author's Site
:
http://www.andreawulf.com/about-the-invention-of-nature.html
Awards:
One of the New York Times 10 Best Books of the Year

Winner of the Los Angeles Times Book Prize, The James Wright Award for Nature Writing, the Costa Biography Award, the Royal Geographic Society's Ness Award, the Sigurd F. Olson Nature Writing Award

Finalist for the Andrew Carnegie Medal for Excellence in Nonfiction, the Kirkus Prize Prize for Nonfiction, the Independent Bookshop Week Book Award

A Best Book of the Year: The New York Times, The Atlantic, The Economist, Nature, Jezebel, Kirkus Reviews, Publishers Weekly, New Scientist, The Independent, The Telegraph, The Sunday Times, The Evening Standard, The Spectator
Bucks County Audubon Society Event: Earth Day, April 22 from 11:00 - 4:00
To celebrate the birth of the modern environmental movement, we are reading this book about one of the very first environmentalist. Join us at Bucks County Audubon Society at Honey Hollow, located only a few minutes from Peddler's Village, to celebrate with this special event. We will have lots of vendors, exhibits, presentations, etc. Visit the website for more information: http://www.bcas.org/event/earth-day-festival/.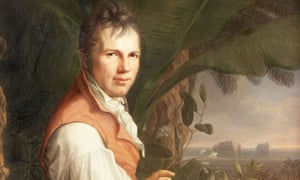 Discussion Questions (
by Heidi and John, who will be leading the discussion)
:
1. How did Humboldt go from being the most celebrated scientist of the nineteenth century to being largely unknown in our time?

What did you know about Humboldt before reading this book?
2. What are some of the concepts of the times, that greatly influenced Humboldt's thinking, such as Kant's concept of a systematic construct and Goethe's ideas and belief of the marriage of art and science.
3. How did Humboldt expand on his concept of "Nature must be experienced through feeling,"? How does he develop this further? Is this inconsistent with scientific practice?
4. From the beginning of time, it was believed that humans had command over nature, as stated in the Bible, to Aristotle and on into the 17th century with Francis Bacon declaring "the world is made for man" and Descartes wrote that humans were "the lords and possessors of nature." Many believed, that all the land should be cultivated and "improved" and tidy. These ideas are prevalent in our own society again today. What causes this disconnect with nature and man?
5.

Describe some of his exciting travels and dangerous moments?
6. What are some of the negative impacts humans were having on the environment already at that time, that Humboldt observed and were concerned about, i.e

Lake Valencia, deforestation, climate change, animal populations such as the turtles from the Orinoco rainforest.
7.

How was Humboldt's view of nature and Earth radically different from previously?

What experiences in particular helped him develop his ideas?
8.

Who were some of the great people, notably coming from many different disciplines, that were influenced by Humboldt and what were some of his ideas, that became seeds of new concepts that they later developed?
9.

One of his greatest achievements was his book, Cosmos.

Did this book inspire Carl Sagan's book Cosmos?
10.

Describe the process by which he created networks of scientists and the incredible number of letters he wrote and received during his career to forge these associations.